Sometimes, when we're nearing the end of the week my weekly meal plan has gone out the window. When Thursday rolled around this week I knew I had planned to do a pasta for dinner, but I didn't really know what was going to go into that pasta.
And that is when I throw together a Whatever's-in-my-fridge Pasta. Often, it's the meals that I throw together at the last minute that my husband likes the best.
Now, some people are afraid of pastas...you know, those terrible carbs. I love pasta. It's possibly my favourite food, next to potatoes, chocolate, and soup. I would eat pasta every day of the week if I could.
This pasta was wonderful because it was light, flavourful and totally satisfying.
I used whatever veggies I had leftover at the end of the week and it all worked wonderfully together. So, I give you my recipe for Whatever's-in-my-fridge Pasta: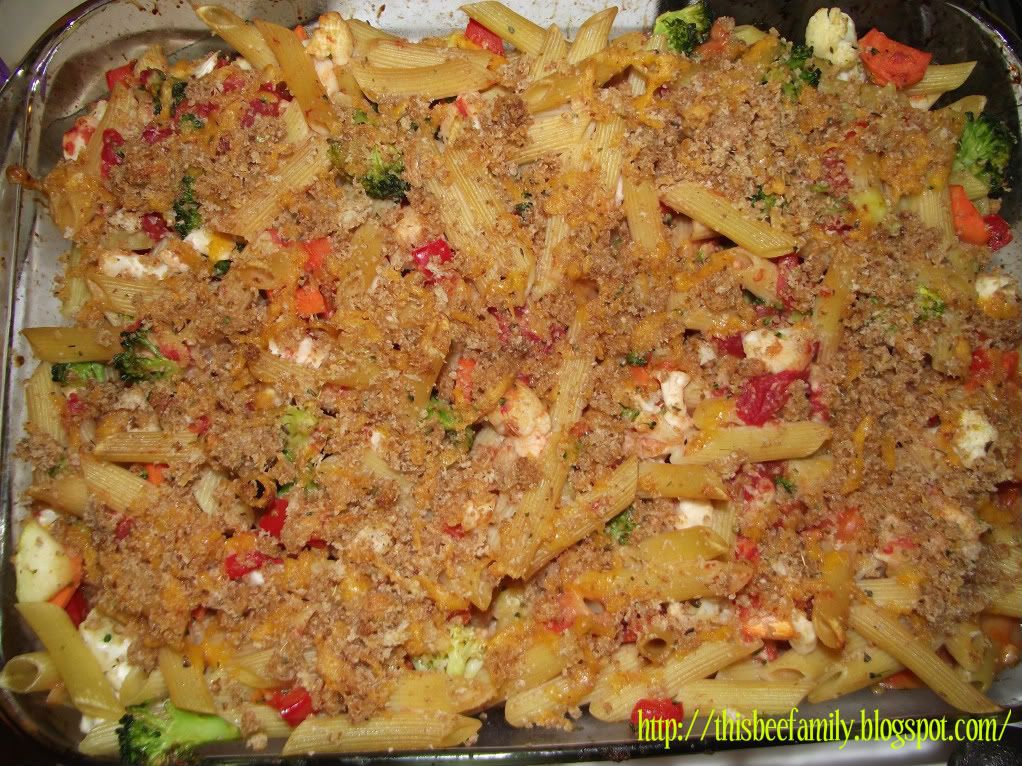 What You Need:
Serves: 6
1- 18oz can diced tomatoes with herbs
1 small zucchini, peeled and chopped
1 red pepper, chopped
1 small head broccoli, chopped
1/2 small head of cauliflower, chopped
1 small can tomato paste (about 2tbsp)
1 medium carrot, chopped
1 cup breadcrumbs (mine were mixed with oregano and basil)
2 large cloves garlic, finely grated
1/2 package penne pasta
1 cup cheese, grated
Oregano, basil, salt and pepper (to taste)
1 tsp margarine/butter
Cooking oil
How to Make it:
Bring a pot of water to boil and add your pasta to that. Preheat your oven to 350F.
In a skillet over medium-high heat, add some oil and all of your veggies, minus the canned tomatoes. Add in your garlic, some oregano and basil and salt and pepper. Cook until the veggies are cooked, but still slightly tender (you can cook until soft instead).
Drain your pasta and place into a 9x13 glass dish. Add your veggie mix to this and stir together.
In a bowl, mix your canned tomatoes (with juices) together with your tomato paste until blended. Pour over your pasta and veggies and combine it all together.
Melt your margarine or butter and mix it into your breadcrumbs until they are all coated. Add in your grated cheese and then sprinkle over your pasta.
Bake in the oven for 15 minutes, or until the breadcrumbs are crisp.
Optional: Once out of the oven, top with even more grated cheese!
Eat and enjoy!